War Metal
Edit
Obsidian
Unique
Armored
Special Ability
Dark Matter: Chance to deal massive damage and prevent enemy Assault unit from entering battle.
Quality:
Purple
Attack
Defense
65
55
Obsidian is available for purchase in the Barracks after attaining a Combat Rank of 60,000 for $20,000,000,000.
Dark Matter
Edit
Proc chance: 55%
Damage: 6-18
Avg dmg/attack: 6.6
On proc: Jams one Assault unit.
Currently, selling Obisidian in the Barracks only returns $2 billion to the player instead of the expected $10 billion.
Obsidian is available to Tyrant players as an Arena Reward.
Unlocking Requirements: 5000 Rating from Arena (will be relocked if you drop below this rating)
Cost: 15000
Tyrant: Obsidian

Set:
Reward
Quality:
Unique Rare
Faction:
Raider
Timer:
2 Turns
Attack
Health
1
4

Skills

Armored 3




Strike 2




Weaken All 1
Prior to version 2.3.0, this card had 1 more Wait and 2 less Health.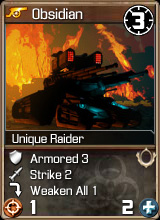 Raider Cards
APC • Acropolis • Adaptable Mechsuit • Ajax • Anvil • Anvil, Lv2 • Armored Slab • Armory • Artemis Tank • Artillery Encampment • Assembly Plant • Atlas • Avenger • Barbarian • Barracuda • Barracus • Battle Mount • Berzerker • Beta Zoid • Bio Launcher • Blaster • Blitz Armor • Bolide Walker • Bombardment Tanks • Breakerknot • Bruiser • Bulldozer • Burrower • Buzz Slicer • Caitalia • Calypso • Cannon Walker • Cannon Walker, Lv2 • Captor • Carbine • Cassandra • Rare Cards • Chopper • Chronos • Chronos, Lv2 • Claw Wheeler • Cog Fist • Collapsible Rig • Colossus • Colossus, Lv2 • Combat Specialist • Command Center • Concussive Guard • Concussive Guard, Lv2 • Covert Armor • Crumbling Remains • Cybertron • Cycle Mech • Cyclone • Dalia • Darkon Destroyer • Deadblow • Demolition Bot • Deranged Hunter • Destroyer • Disruptor • Doom Cannon • Dozer Tank • Dread Panzer • Drones • Duncan • Dune Runner • Earthquake Generator • Echo Hunter • Exosoldier • Exterminator • Extinguisher • Extinguisher, Lv2 • Fanatic • Flanker • Fortified Cannons • Foundry • Fury Walker • Gargantuan • Gatling Tower • Gearhead • Goliath • Gouger • Grinder • Grunt • Gun Raven • Gunjack • Havoc • Heli-Duster • Heracles • Hijacker • Howitzer • Hunter • Hunter Spotter • Hydra • Hydroblade • Hydropod • Hyperion Prototype • Impulse Walker • Iron Maiden • Isabelle • Jagatai • Javelin • Jekel • Jericho • Jet Enforcer • Juggernaut • Kilgore • Kor Challenger • Laird • Landshark • Lasher • Lead Trooper • Lionheart • Lodestar • Lodestar, Lv2 • Machine Mill • Marauder • Mayumi • Mech Walker • Mech Walker, Lv2 • Micromech • Miradren • Missile Silo • Mobile Base • Mobile Command • Mobile Command, Lv2 • Mobile Fortress • Mobile Magnacannon • Natasha • Nazdor • Neocyte Guard • Neonyte • Night Ranger • Nightstalker • Offshore Platform • Omega • Omega (Limited) • Omega, Lv2 • Omega, Lv2 (Limited) • Orbo • Orca • Outpost • Pandemonium • Pathfinder • Pelican • Plated Brute • Power Generator • Pyro Rig • Pyro Rig, Lv2 • Quadrishot • Quilled Blaster • Radio Officer • Raider Encampment • Raider Wall • Rally Flag • Rampage • Rancor • Ravenous Beast • Ravenous Beast, Lv2 • Razor • Reaver • Reloader • Ricochet • Rotted Mortar • Rust Egress • Sabertooth • Safeguard • Salvage HQ • Salvager • Sand Crawler • Sand Crawler, Lv2 • Savage Brute • Saw Tank • Scav Idol • Scorpinox • Scorpion • Scrap Collector • Scrapper • Shock Grunt • Shrapnel Engine • Sidewinder • Sidoze • Skullkeeper • Skullkeeper, Lv2 • Slayer • Smog Unit • Smog Unit, Lv2 • Solitary Mech • Special Forces • Stavros • Sustained Wall • Svetlana • T-20 Oppressor • Tainted Blade • Tesla Cannon • Teslafield • Teslatank • Thunderer • Toxic Cannon • Toxic Cannon, Lv2 • Toxic Corruptor • Tremor Hunter • Turbo Commando • Typhon Vex • Tyrant/Missions/Strategy/Homeland Defenders 1 • Undertaker • Vorpal Tank • Vulture • Warehouse • Waypoint • X8 Gunboat • Yurich • Yurich, Lv2 • Zander • Zero • Zero, Lv2