War Metal
Edit
Trident
Armored Naval
Special Ability
Bolt: Chance to deal damage and prevent an enemy Armored unit from entering battle.
Quality:
Purple
Attack
Defense
44
44
Trident was available for acquisition through War Chips and Naval Pack. This unit may become available again in future War Packs.
Proc rate: 50%
Damage: 2-6
Avg dmg/attack: 2
Trident is available to Tyrant players as a Faction Reward.
Tyrant: Trident

Set:
Reward
Quality:
Rare
Faction:
Imperial
Timer:
2 Turns
Attack
Health
3
4

Skills

Counter 2




Immobilize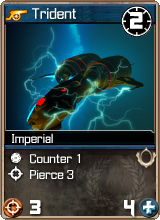 Prior to version 1.4.42, this card had Pierce 3 and Counter 1.