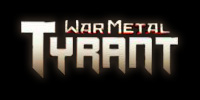 War Metal:
Tyrant
is a
Collectible Card Game
(CCG) based on the War Metal game and is set
dozens of years in the future
. This game is expected to enhance the gaming experience of the War Metal community, and may introduce CCG gamers to War Metal. Tyrant was introduced as a War Metal themed game on
Facebook
in October 2010; on
Kongregate
in February 2011 and on
Armor Games
in February 2013.
Massively multiplayer online game play is provided through a Web browser using the Flash platform and the battles within the game may be set to automatic or manual. Each mission shuffles the player's selected deck which includes a commander and up to ten other cards. The player is then presented with three cards from their deck to choose from for the first turn. Turns alternate between opponents until either commander's health reaches zero (the other side wins), or the health of both commanders is above zero by the end of turn fifty (draw in tournament battles, the attacker loses otherwise). Strategy is formed by taking advantage of card skills and choosing when to play which card from the player's hand.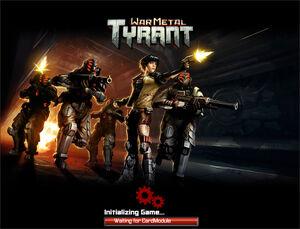 The new player is presented with a choice between two commanders and a tutorial which can be skipped. The tutorial will walk the player through the first two missions and introduce the player to the
store
.
card packs
may be purchased in the store to supplement the cards awarded for mission victories. New decks, card packs, and
rewards
are unlocked for completing
levels
,
achievements
, and gaining
reputation
. As the player progresses in level, opening new missions and unlocking new features, a tutorial message may introduce the player to various game features.
The player can track their progress towards the next level, as well as the amount of energy, stamina, gold, and war bonds available via the status bar in the game interface. Buttons include those which allow for navigating the various panels within the game interface, toggling Automatic Battle Mode, as well as turning sound effects and background music on or off.
Raids are unlocked as the player progresses through the game and PvP (Player versus Player) combat is available through tournaments as well as Player Faction wars.
Notes
A young Captain Halcyon was later introduced in War Metal a few months following the introduction of Tyrant (January–February 2011).
Community content is available under
CC-BY-SA
unless otherwise noted.